Expedition Narcondam : The Island
Read previously: Expedition Narcondam : Part 1
The night came in early and soon we were sailing in almost total darkness, but under the canopy of a million stars–the milky way above us. We had started early that morning on a small, private, sail boat and still were not in sight of our destination. As I settled down on the deck for the night, I could not help but think about Charles Darwin and his Voyage of the Beagle. Close to 200 years ago, Darwin with his crew went around the world in HMS Beagle and in his trip to the Galapagos islands, he was baffled by the diversity of species on each of the islands and sparked the theory of evolution in his head.
I realised I was going to an island like that. The nearest landmass to the Narcondam island is the main Andaman island which is some 114 km to the west. To the east is Myanmar. On an evolutionary time scale, these islands have been isolated for so long that no mammals have managed to reach these islands on their own. Of the birds that could fly, some have made it to the island and made their home here. But once landed, the birds have been quite content with the island and have stayed isolated from the rest of the world for thousands and millions of years. In this time, the species on the island have evolved into species slightly different from those on the mainland. This is where the theory of evolution kicks in. Over time, species adapt and change to local conditions and in millions of years, become a different species. The process of natural colonisation is probably still on.
One of our primary aim was to see the Narcondam Hornbill. This hornbill, which looks very similar to the Wreathed Hornbill, found in northeast India and southeast Asia, is found only on this island and no where else in the world. Many millions of years ago, either this island was connected to the mainland Asia via a land bridge or was close enough for these hornbills, being powerful fliers, to reach this island. But after that, they have remained isolated for so long that they have changed over time. Today they are much smaller than the Wreathed Hornbills and are visibly a distinct species.
But wait a second. If a big bird like the hornbill could have evolved differently on this isolated island, what about all other creatures like reptiles, amphibians, and plants. We had the right people on board to help find just that and I could barely sleep with the excitement that I would wake up to the sight of this island.
I woke up the next morning and realised that the winds had been against us and we were still many hours from reaching the island. Sometime around 10:00 h, we saw an inverted V on the horizon. The distinct shape of a volcanic island. An extinct volcano in fact. It took us 3 more hours to actually get close to the island.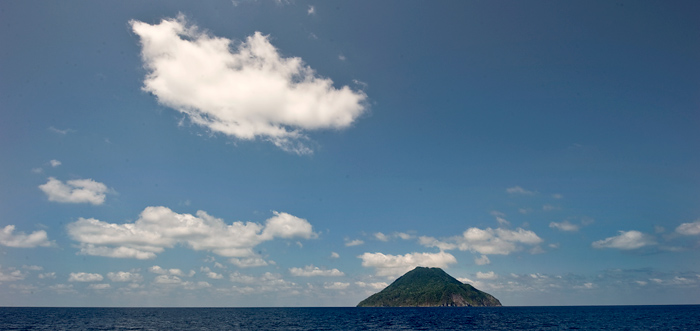 The Narcondam island from a distance
As we approached the island from the south, we knew from reading the reports of previous expeditions that there were only two small stretches of beach to land. Rest was too steep and even if we could anchor, it would be very tough for us to get onto the island and go inside the forests. After we were close enough, we sailed towards to northeast corner of the island to find the landing spot.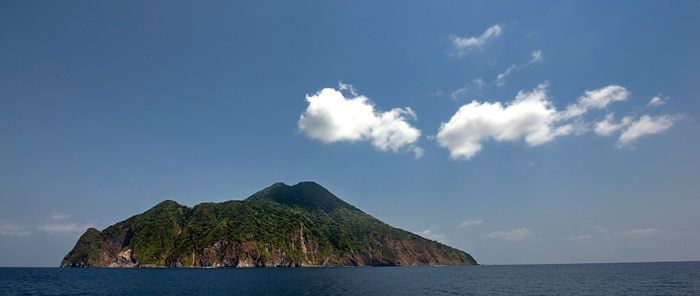 Narcondam Island
We saw a Indian flag on the shore and some people came there to wave at us. Since this island is out in the ocean, the Indian Government setup a police outpost a few decades ago and a few people stay here on rotation, changed and supplied every month by the Coast Guard of the Indian Navy. This is how India stakes her claim on the island.
After dropping the anchor, we took a small inflatable boat "gemini" and went over to the island. We landed and realised there were 20 people stationed there to protect the island.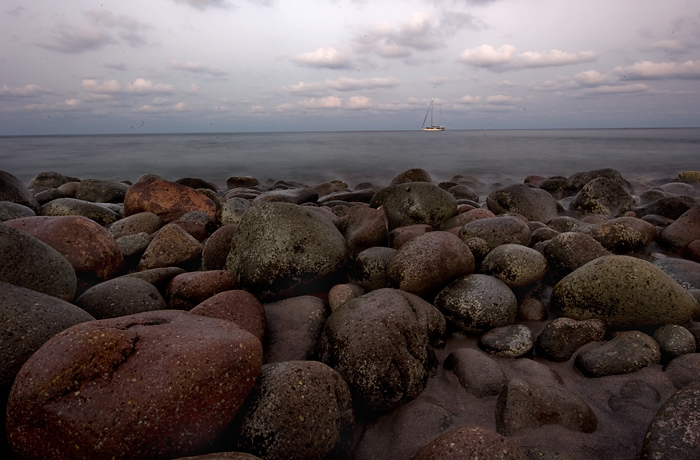 View of our boat "Emerald Blue" from the island
The island's geography itself was quite fascinating. The island is a volcanic island. The volcano is now extinct. So the whole island is very loose, with rocks and ashy soil. When climbing up, one can never trust the ground for support as it just crumbles under your weight and the loose, rolling rocks will hit the person behind you. We were instructed to climb only by holding on to trees and other plants.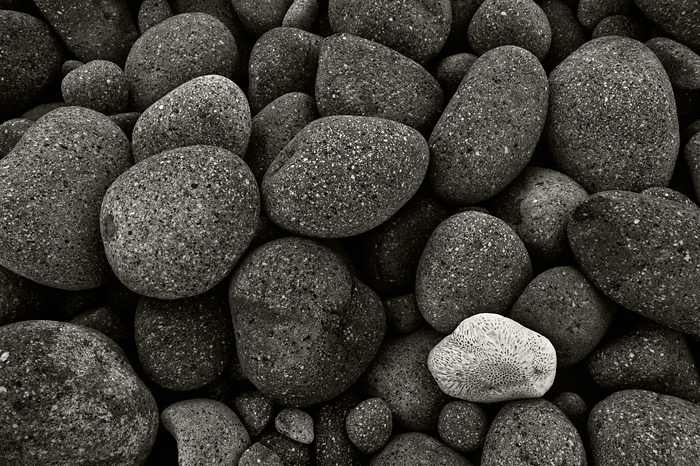 Volcanic rock on the coast
Over the next four days, we explored the island from dawn till dusk and at the end of the day got back to the boat to sleep. Though we were doing a lot of things as a team, each one was after something specific. T R Shankar Raman and Divya Mudappa were trying to assess the population of the hornbills, the state of forest regeneration, and were keeping a record of other mammals on the island. Rom Whitaker and Janaki Lenin were out looking for reptiles and amphibians on the island. Ajay Saxena from the forest department was exploring the island to understand the management issues of this unique island. Tasneem Khan and Umeed Mistry were diving around the island, looking for interesting corals and marine creatures. I was trying to photograph as much diversity of the island as possible.
The island now has a lot of rats that have probably colonised the place along with humans or brought in by the ships accidentally. We were also on the look out for goats which had been introduced earlier as a source of protein for the camp, but had run feral. The forest department following a very strong recommendation by Dr. Ravi Sankaran had removed a whole load of them. We were of the view that a few had escaped capture. We were worried about the impact they might be having on the plant regeneration but were happy not to find any evidence of goats. However, we do know that at least a few are still around as they have been seen by the police guards.
The highlight birds were the Narcondam Hornbills and the Pied Imperial Pigeons. It was the nesting time for the hornbills, so we found them both at nests as well as feeding at large fig trees.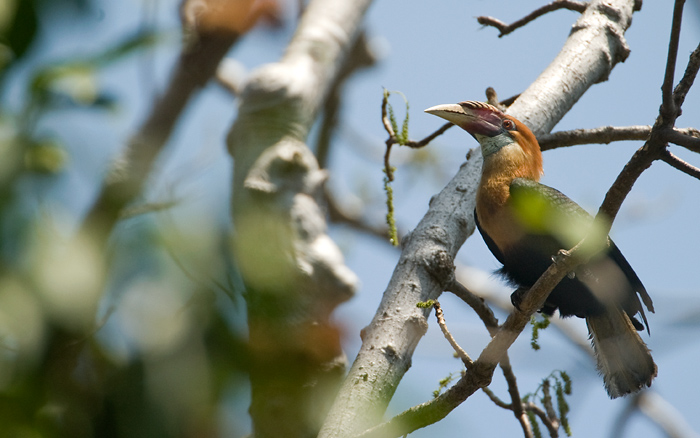 Narcondam Hornbill (Aceros narcondami)
One of the fascinating things that happened was the encounter with ground birds. On one of the days, I was quite pooped climbing up with all my gear and decided to rest by a stream. I was almost having a power nap when I felt something poking my feet. I got up and realised it was a bird very similar to the Slaty-legged Crake which took fancy for a Velcro hanging loose from my sandals. It was surprised to see me but not scared and stood less than 2 feet from me. I was shocked. Normally these kind of birds are shy like hell and one has to try really hard to sneak up on them and here was one right in front of me. It didn't mind me at all and kept walking around foraging. I tried to shoot, but the light was low and most of the time it was in the minimum focussing distance of my lens. I walked with it for a good half hour and meanwhile rest of the guys joined me and had a look. It didn't look like any of the crake species that we find in India. So either its a new species to science or some other crake which is found in southeast Asia. It very closely matched the Slaty-legged Crake.
On another day, we came across a Chinese Pond Heron which would not fly away too. It stood right next to us, and let us shoot it with our 12 mm lenses. Whats with these birds you might ask ? One possible explanation could be that the island does not have or ever had any mammalian predators. So these birds grew up generations after generations without fearing anything and over time lost fear of large things moving around with two or four legs. This is a classic island ecosystem behavior. In fact, in some places like New Zealand, many birds have given up flight totally as they didn't see a reason to fly. Instead of eating a little and take flight, they would sit down for a big meal and take a stroll afterwards. This theory does not hold fully as there are water monitor lizards on the island and they could and would prey on these birds.
We also found atleast two species of bats on the island. Since it was peak summer, we were not so fortunate with snakes and frogs. We however saw many different types of skinks and geckoes. Rom believes many of them could be new species again.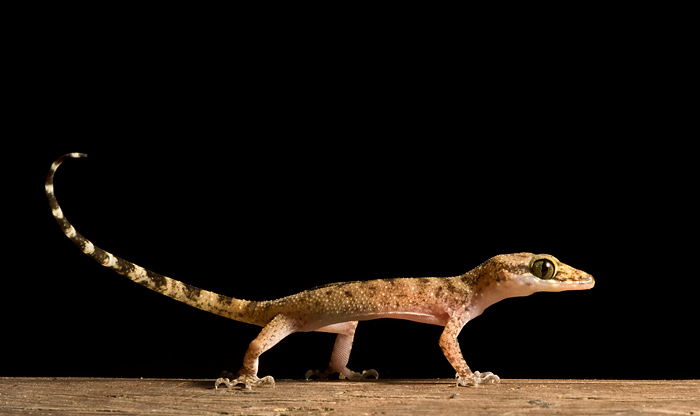 Bent-toed Gecko : Found in Narcondam (but this photograph is from ANET, Wandoor)
Every evening, we would jump into the water with our snorkels as the heat and humidity was too much to take. There were amazing corals around the island and according to our marine experts, the island had some of the best corals in Andaman islands.
Overall, it was a trip of a lifetime for me. Not only did I get to see the island of my dreams, but also was there with the right company and the whole process of sailing there was just perfect. I can safely say that this is one of the few island, not just in India, but in the world which is still intact to a large extent and I hope things will only change for the better on this island, if at all.