Expedition Narcondam : Dolphins
When I started bird watching many years ago, one of the curious birds that I read about was the Narcondam hornbill. Why the name?
Well it turns out, this hornbill is endemic to this small little 6.8 sq km extinct volcanic island named Narcondam island between Andaman islands and Burma. Can you imagine? The whole species of a big bird like the hornbill (some people even call it a honorary mammal) is found in this tiny little island. Since then, the goal was set. Visiting this island and exploring this went into my bucket list. It took more than 5 years for that dream to come true.
It took more than a year of planning, applying for permits and constituting the team for this trip. Finally it was a small team of scientists, photographers and forest dept official. The plan was to spend few days on the island and assess the situation of the island, the endangered hornbills and also look at some of the other wildlife that this island holds along with all the coral and marine stuff around the island.
So here is the first of series of posts about this expedition.
Day 1 (12th April 2010)
All of us reached Port blair two days before to pack, plan and setup things for the expedition. We chartered a sail boat/yacht from thailand to go on this expedition. We left port blair very early and set sail. Since the winds were not favorable, we could not use the sail and had to use the engine which meant we could only do a speed of 6 knots. After few hours, we were out in the open ocean with endless horizons on all sides. Past lunch, we suddenly saw this pod of spinner dolphins playing in the ocean. We slowed down and the the whole pod came towards to boat to play with us.
See this video to know why they are called spinner dolphins and its quite clear that they were just having fun. I shot this footage with a Nikon D90.
After the initial jumps, they swam in front of the bow of the boat for many kilometers. Dolphins love to ride on the waves that bow of boats create.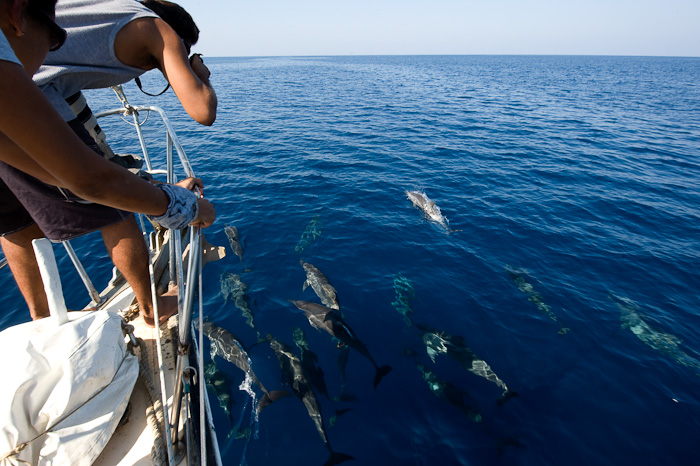 A pod of spinner dolphins swimming with the boat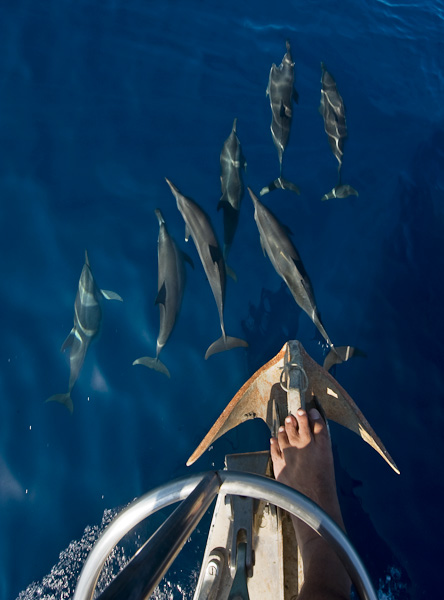 Bow-sailing: A very favorite activity of dolphins (thats my foot in the frame)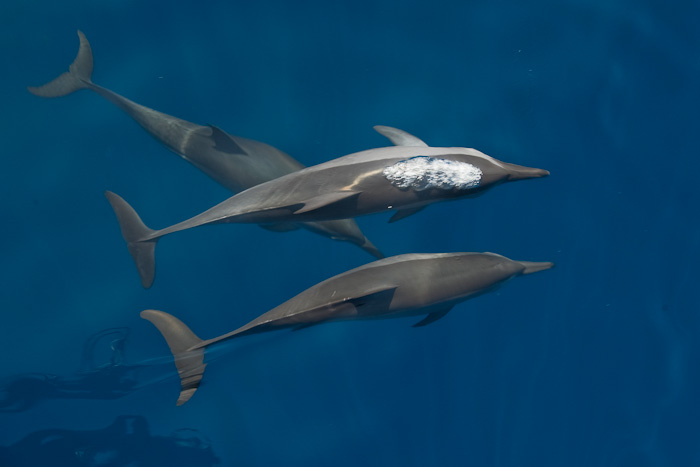 One of the dolphin breathing with its blow-hole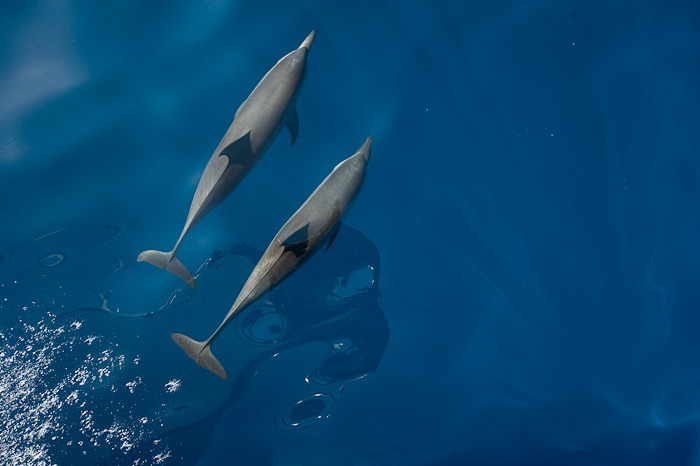 Only these two remained in front of us after a while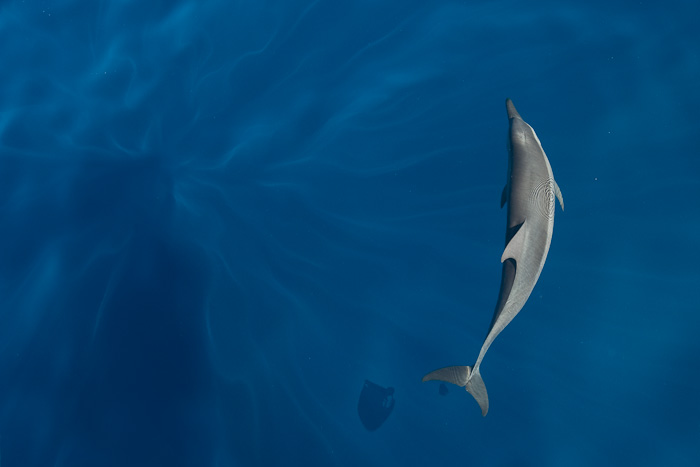 And the last one that left us and went away
We also came across a pod of Pilot whales. No great photographs as we saw them only late in the evening just after sunset. We reached the island only the next day afternoon. More about the island in the next post.
Update : Since many of you asked, here is the wallpaper version of the last image