Mandanna came running and said he just saw a leopard next to him, relaxing on a wall with its legs on either side of it. He had gone to pick up something from my Scorpio which was right next to this wall. We all rushed out and went back to see the leopard get up and jump into the tea bushes next to it. We got excited but got back to our work and Mandanna went to drop off our friends at a home stay. When he got back again after an hour, he came in and said that he saw the leopard again, this time sitting in the tea bushes.
Everyone thought he was joking, but when we went back, we saw this guy sitting without a care in the world in the tea bushes. I rushed to get my camera, but my card was out. Then it took me 5 min to find my flash and all along, the leopard was just there. In fact, a very young he or she was as curious about us and was peeping though the tea to have a look at us. We all stood there as I took a few snaps and then it started to rain. We left the guy and came off to have dinner. I also smashed my toe against a huge rock in this whole process.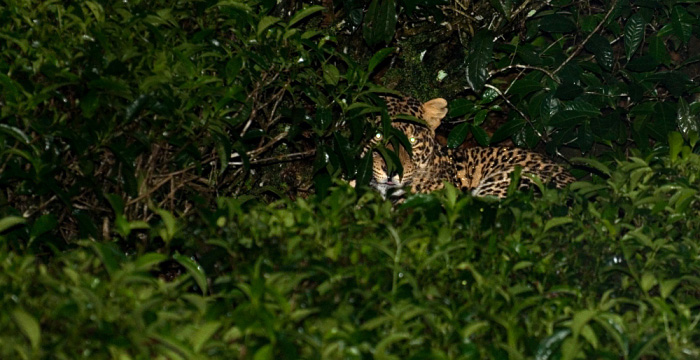 As I type this, the leopard is still sitting outside less than 200m from where I am. It's a weird felling when you know there is a leopard so close, yet you are trying to go on with your usual business. This leopard sighting credit goes to Mandanna. If you have met him before, you would know his legendary tracking skills and this time it really paid off.