This two day course in Bangalore is for everybody looking for a introduction to the fascinating world of photography. Join professional photographer Kalyan Varma as he shares his secrets and insights into how to make photographs that convey a powerful sense of place, capture the essence of a person or a rare moment. Get real-world advice to help make the most of your camera. Using a slide show/lecture format, Kalyan will show you how to add depth and meaning to your images.
This is a class which will fundamentally change the way you see. It has nothing to do with technical sophistication or complicated equipment. This is a class about getting inspired, learning new things, working through burnout, and getting back to the part of photography that was fun and attracted you in the first place: looking and seeing.
The Photography Workshop is designed for photographers of all levels. The workshop caters to those who seek more intensive instruction, and includes photo editing, instruction, and critique sessions.
You will also learn basic photography concepts, such as exposure calculation, depth-of-field, effective composition guidelines and how to use your flash effectively. You will have the opportunity to practice your newly acquired skills during field trip. With a strong emphasis on practical, hands-on shooting exercises, this course will make you feel in complete control over your digital camera equipment. In-depth review and critique sessions are held to give you valuable and encouraging feedback.
Most of all, these workshops will inspire you and change the way you look at photography forever.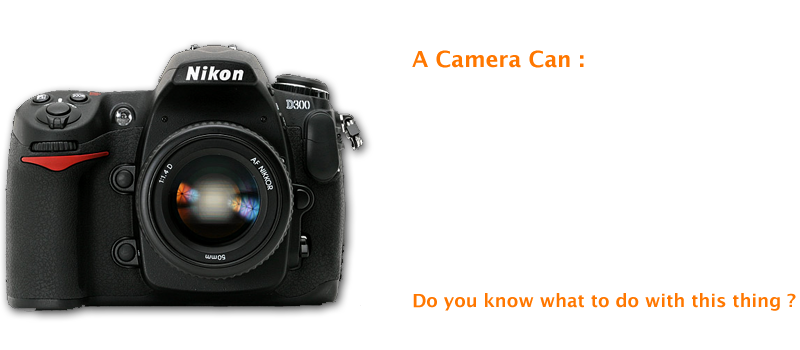 Course Contents
Master Exposure
: Learn how to make a great exposure and forget all the guesswork. You will be shooting your camera on Manual Mode and really learn to recognise and use exposure compensations. It is all about recognizing middle-tones; exposing for all tonalities — grey, black, and white, understanding histograms and using them effectively. Understanding exposure, is one of the KEYS to successful shooting, and you will master exposure during this course!
Composition
: Learn the fine points of effective compositions — finding effective compositions, using lenses effectively; seeking the best perspective; texture, color, point of view; knowing zones of sharpness; selective focus; and the rule of thirds. This will also make you think like an artist. From trying to take pictures, learn to make photographs. Learn some of the fine points from painters and others, who use visual elements to compose beautiful imagery.
Maximizing the Digital Potential
: Learn colour management, post-processing methods to improve the brightness, contrast, and white balance of your image. Learn to use tools like levels, unsharp mask, cloning, digital blends and noise reduction. Handling RAW files, learn how to make digital composites, including panoramas.
Equipment & Lenses
: Know what to buy and what not to buy and learn how to use your gear effectively. Learn from choosing the right body with right features to connect to the right set of lenses. Also tips about photography accessories like tripod, CF cards, flash, filters, bags, etc., will be discussed. Understand the tools of trade for close-up and landscape photography. This session will also teach you how to manage and take care of your camera gear.
Critique
: This workshop also gives you a chance to get your images critiqued. A very constructive critique session which will include technical and aesthetic aspects.
Photography in Practice
: Learn what it takes to push your photography to the next level and keep it going. You will learn behind-the-scenes information on what it takes to publish your work, work for magazines like National Geographic and most of all, doing photography with a purpose.
Field Learning
: Spend few hours shooting in the field and put your technical and artistic skills to practical test. There will be options to shoot landscapes, portraits, wildlife and street scenes. You will always have Kalyan on hand to help you in any of the aspects.
Brain-picking time
: Ask any question from flash photography to HDR stitching. A full session is dedicated to clarify all your photography related doubts.
Click
here
to find out more about other exciting workshops and wildlife photography expeditions.