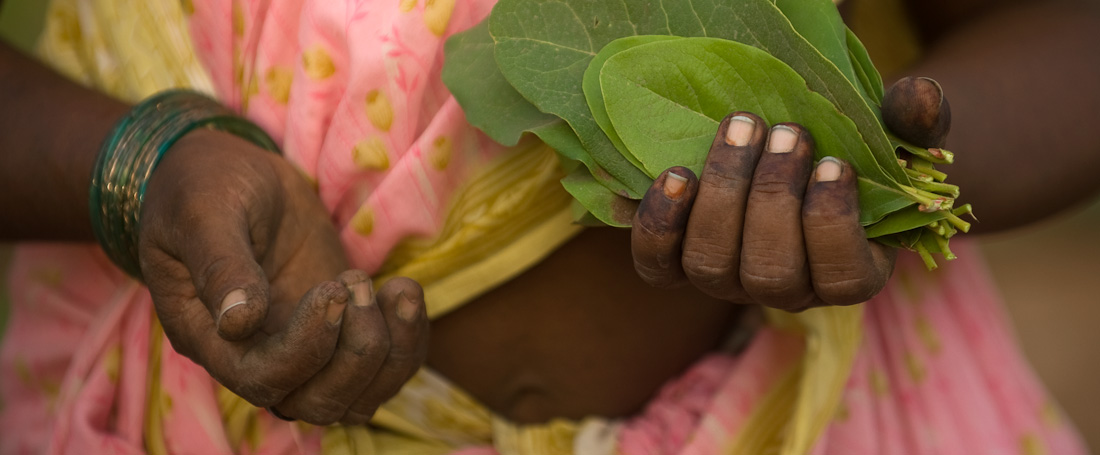 When a portrait is not just a portrait
As a photojournalist, when do you capture a scene the way it is vs capturing it as the way you think it is.
Let me explain
Last evening, I was driving in the buffer area of TATR and came across two women collecting Tendu leaves (leaves of Tendu are used to make indian cigarettes) in the forest. I stopped to take their photos. One of the lady's name was Shakshi and I was trying to take her portrait with the leaves. Obviously since it was a stranger, who suddenly landed up, she was stiff and expression-less. I asked my guide Santosh to tell her to smile a bit for the photo. She did not right away, but after asking her twice, she finally did smile and I took her photograph. I took some more shots of them collecting the leaves, thanked them and left.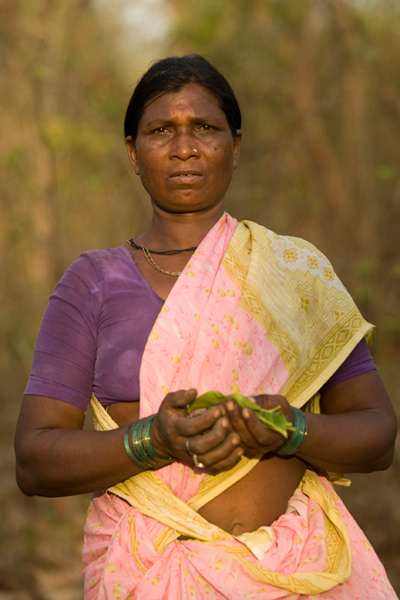 Sakshi, before I asked her to smile
As I was driving back, I was thinking about Shakshi and the photo that I took of her. Is she happy that she is a tribal? Does she think she lives a happier life than people in the urban jungles? Does she feel marginalized in the forest? Which of my photograph, represents what?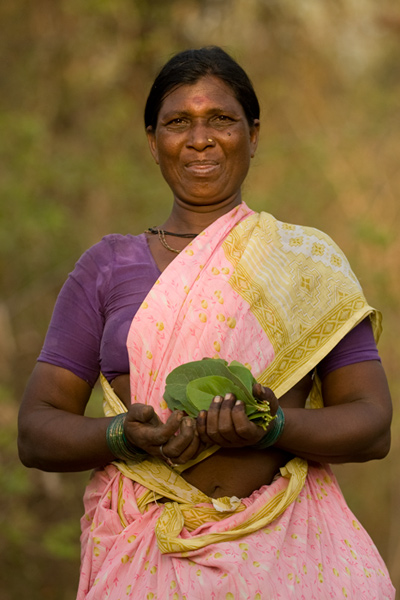 Sakshi, after I asked her to smile
Shakshi is from the Gond tribe, living inside this forest. What she was doing might be illegal as per our wildlife laws, but these have been the forests of her ancestors and she makes a very marginal living out of selling these leaves
There have been endless debates between biologists and social scientists. The former contend that tribal relocation from the forests is fundamental to the conservation of wildlife and say most tribes prefer to move out, the latter argue that the social costs, which relocations impose upon oustees, outweigh any benefits that people-less nature provides and people are happy to be living inside the forests.
I cannot help but think that the first photograph supports the case of the former and the second one for latter. Have I distorted the story by asking her to smile for the camera or is she really a very happy lady? Have I imposed my views about her in the photograph by asking her to smile? (though I fight for wildlife, I believe historic injustice has been done for the tribes and they must be respected and made part of the conservation process).
I do not know the answer, but its scary to know that a portrait is not just a portrait.