One of the exciting things about wildlife is the unpredictability. When you least expect it, you are rewarded by an amazing wildlife sighting.
Yesterday, along with two of my friends, I had been to BR hills. We left in the morning, reached BR hills by lunch time, finished some work and went to K-gudi (the tourism zone of BR hills) and decided to go on the evening safari. Two weeks ago, a mother tiger with 4 cubs were sighted near a water hole and we decided to drive straight to the place and wait there.
As soon as we landed up, a barking deer which was drinking water, walked into the understory and then started giving out alarm calls. Since half the time they give out false alarms, we waited hoping something would turn up. Then someone screamed "Tiger Tiger". A cub came out of the bushes and slowly walked to the edge of the water. One more came behind it, followed by two more tiger cubs. We could not believe it. Four tiger cubs in front of you in a south Indian jungle. They came to the water, drank a lot, played in the slush for a bit and, one by one, just as they had appeared, disappeared into the bushes.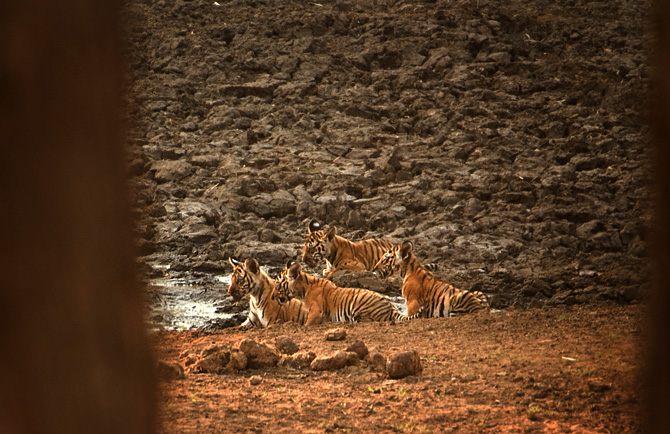 They were out for a good 10 min, but the mother never came out. We waited for an hour more, but there was no sign of the mother and it was time for us to leave. Personally I am so happy to see tiger in south India after more than a year and that too in my favorite place, BR hills.
BR hills has been one of those quite little gems hidden away because of which there is less tourism pressure and less corruption. It surely is one big bank for tiger populations and I hope it stays that way. A lot of people have been wanting this place to be declared a Tiger Reserve (at this moment its a Wildlife Sanctuary) but that will only ruin the place as a lot of money will be spent to 'develop' the reserve.