Benjamin Lee has a very interesting Job. He works for the Singapore National Parks Board. He is responsible for maintaining the tree cover in town and also the National parks and watersheds. I was introduced to Ben as he was the best person to show me Colugo in the wild in Singapore.
He called me last evening and said he has a very special surprise for me. A Colugo had entered one of the buildings next to the park and we had to go pick it up and release it back in the national park. It was dropped off at the zoo and we picked it up and drove to Bukit Timah Nature Reserve.
Colugo, also known as the flying lemur is one of the weirdest creature on earth. Its has a very weird skin, a strange membrane around the animal and is the most capable gliding mammal on earth (after bats of course). I first saw it in a David Attenborough documentary and been wanting to see it even since. The amazing thing about this mammal is that it can never stand on the ground like the bats, and can only glide for locomotion.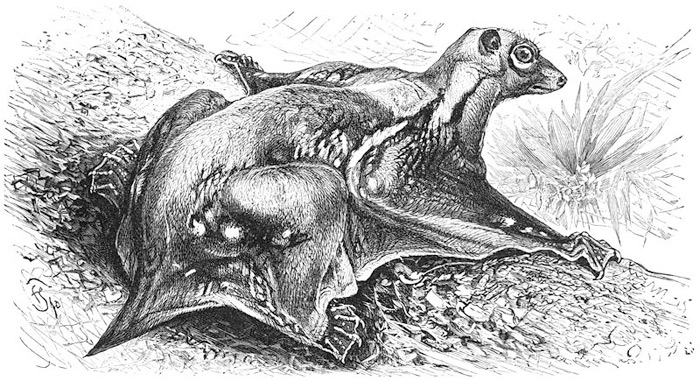 Colugo Cynocephalus volans
We reached the National park at 6:30pm and was just about the right time to release the Colugo. Since it was in a box, I didnt see it too well. We took it to a large tree and released it. Just as we opened the box, it leaped on Ben, and then jumped onto the bark of the tree and ran up. After going up, it disappeared. It took us a fraction of a second to realise that it has gone airborne. It was one of the most wonderful sights on earth to see as it glided to a large ficus tree a good hundred meters away.
We got back to the office and then started searching for the resident Colugos. Today it was not there on the tree which it's usually found. After a bit of searching, I suddenly heard a 'thud' on a tree next to me and then realised it was Colugo which landed on a tree very close to me. I whipped my camera out and shot the photograph below. I made sure I did not use a flash and shot this only with a torch light.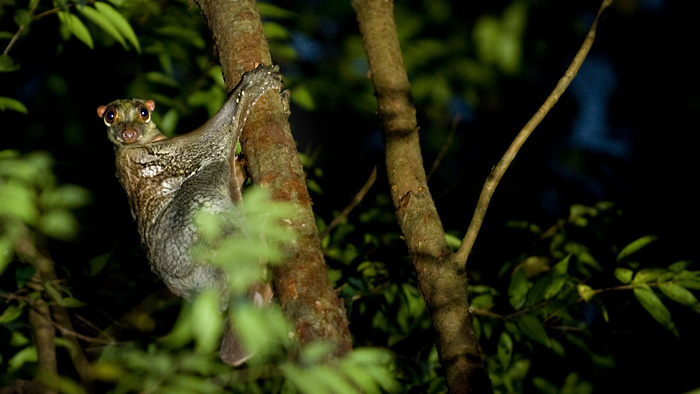 Philippine Colugo Cynocephalus volans (Nikon D700 with 70-200mm | 1/25 sec at f/2.8 @ ISO 2000)
This disappeared into the canopy and soon after, we bumped into the team from the National Parks who were doing their monthly night survey of the park. They invited me to join and I was more than happy to go along. I was just not prepared for the humidity, but the next 4 hours of walk through the forests was amazing. We saw the Long-tailed nightjar, Common Palm civet, Red-cheeked Flying Squirrel, Malayan Giant frog and dozen of amazing rainforest trees in bloom.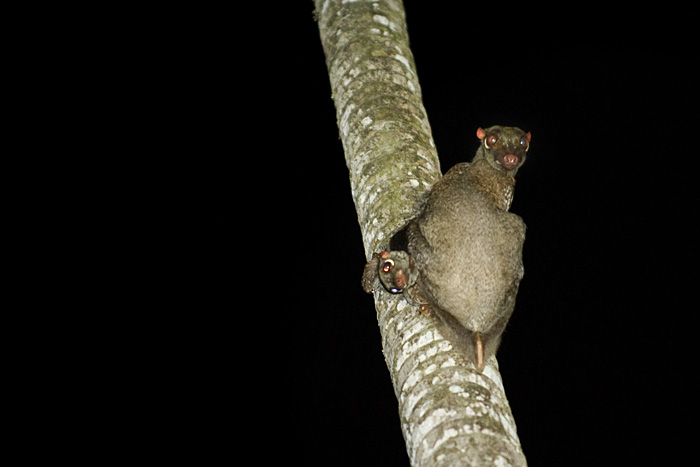 Colugo carrying a young one
Along the trek, we also spotted 3 more Colugos and this one was carrying its young one along with it. We all got back late night, had a data sharing meeting and called it a day. It was excellent to survey a new forests and was quite happy to have identified most of the species myself.
I strongly hope, other big cities learn from Singapore (and New York) on how to manage urban forests. Even if they don't care about the tree cover, at least realise that unlimited clean water supply can only come from the watersheds that these forests provide.