Revisiting Nilgiris' Peaks and Passes
Earlier this year I was fortunate enough to be invited to be part of an expedition team led by Dr AJT Johnsingh. The trek was from Mukurthi National Park in Tamil Nadu to Silent Valley National Park in Kerala and the primary purpose was to evaluate the importance of the two national parks in the conservation planning for large mammals. A delightful and detailed account of the expedition has been written by Dr AJT Johnsingh in the Frontline magazine.

While I had no scientific expertise to add to the mission, I did have ulterior motives. This route goes via the famous Sispara pass. Sispara was used by the British as the shortest ditance between Ooty and Kozhikode.
Now this is where it gets interesting
Around the 1830s a British officer of the Bombay Army named Stephen Ponsonby Peacocke was in India with his regiment and was in Ooty up in the Nilgiri Hills convalescing from an illness for some time during this period. He had a lot of free time on his hands and since he was good at painting, he created 17 drawings of spectacular landscape views in the Nilgiri Hills. His artwork is known for being lifelike and to proportion and scale. He finally published all of them in 1847. Thanks to wikipedia, you can browse through all of them.
Before the trip, I printed out all these photographs and carried them with me to search for these landmarks which were painted more than 170 years ago. From the start of the walk, I was looking at every mountain, every peak, and every pass, and was trying to compare them with the photographs that I had with me.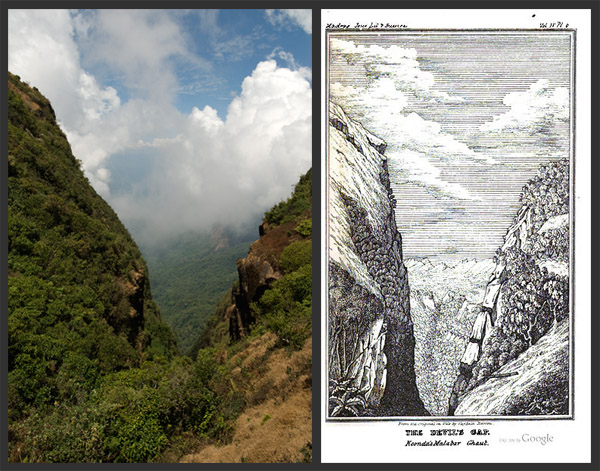 Devils Gap (map)

I found this one by accident. It was just 10 m away from the main walking path, but was not at all visible from the path itself. For some funny reason I decided to check it out and there it was, the Devil's gap. The minute I saw it, I knew this was the one. Not much has changed here in the last 170 years it seems. The rocks were still the same, the hills in the background were the same too. And the forests that can be seen through this gap is the Nilambur Reserved Forests, renowned for their teak timber.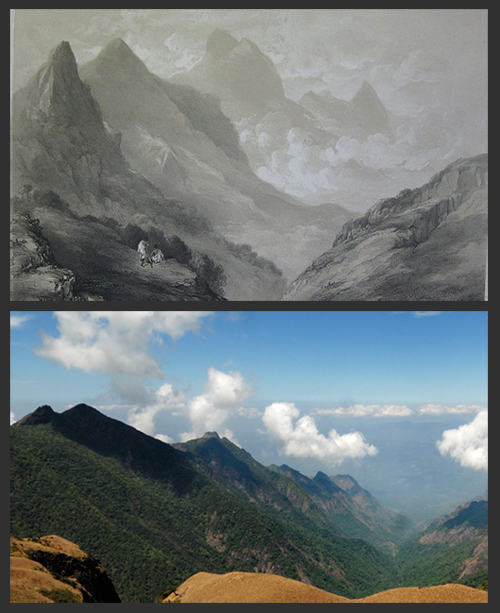 Koondah Pass (map)

This is a very well described place, so I more or less expected to find this place. Infact if you look at this location in google maps, you will know why it was so easy to find. I photographed this from a ridge, but looks like Peacocke painted this landscape from a place much lower than where I was, since the perspective is different. But if you observe the peaks, they are more or less the same.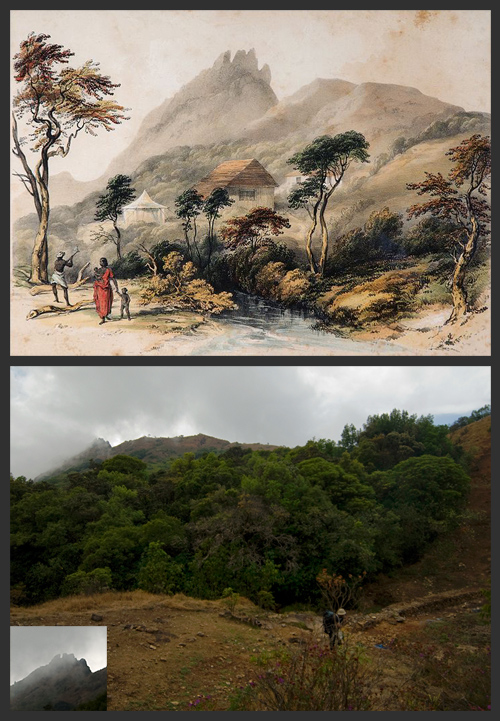 Sispara shed and the peak (map)

This was another location which I found by accident. We had reached the Sispara Pass trekking shed, and after a brief period of rest, were about to start climbing down into Silent Vallery National Park. The peak itself was covered in clouds, but suddenly it opened up and I realised that this was the main peak that I was looking for. I took some quick photographs before the peak disappeared behind the clouds again. When this place got declared as a National Park, all the people were moved out. So now this place is a good patch of forest. You can still see some remains of old houses in the new photograph and the possible stream (now with a check dam across it) that was flowing with water back then. The forest guard also told us that there were some more remains of the old shed inside the forests which we didn't have enough time to explore.
Overall I was more than happy to find 3 out of the the 17 landscapes. Mr Narayan Swamy owns some of the original lithographs and he has been very kind enough to scan them and put them up on Wikipedia. Would anyone else who knows Nilgiri hill ranges well be interested in trying to find the other locations and photograph them ? I think it will be a great project to record landscape level changes over centuries.